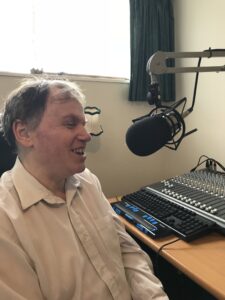 Podcasting since 2004, Jonathan Mosen has been a well-known and trusted voice in the blind community for over a quarter of a century. The quality of his work is well-regarded, and his ability to entertain and inform is widely acknowledged.
With a background in commercial radio, Jonathan saw the potential of streaming audio to bring the blind community together, so in 1999, he devised Blind Line, the first global call-in show for the blind community.
He founded and directed ACB Radio, mentoring many volunteers in the blind community to take up Internet broadcasting and content production. Several prominent blind podcasters who continue to make valuable contributions to our community got their start during this period.
Prior to the start of the podcast era, his Main Menu show, which went to air for the first time on 10 April 2000, was a global grass roots way for blind people to share tips, tricks and demonstrations of technology. The archives of this show now represent an important historical record of the period.
Jonathan has hosted the popular Mosen Explosion music radio show for more than two decades. In 2010, he founded Mushroom FM where he can still be heard.
Jonathan is or has been a CEO, thought leader, advocate, change agent, government relations professional, author, information technology consultant, Internet start-up founder, candidate for Parliament, IT product designer, and non-profit Chair. He is married to Bonnie and has four children – two daughters and two sons, as well as a granddaughter.
He was made a Member of the New Zealand Order of Merit in 2019 for his services to the blind community.